Aveyron's traditions revisited
(Menu Touristique) Tourist Menu €22
Melon with ham and green salad
~~~~~~
Local sausage Aligot
~~~~~~
Crème Brulée

or

Ice cream sundae (2 scoops)
The Day's Menu
Starter + main course + dessert: €14
Starter + main course: €12
Main course + dessert: €12
Main course: €10
Lunchtime service from Tuesday to Saturday (except on public holidays)
Please, check the board
Children's Menu €8.50 
Children under 10 years old
Local charcuterie board

or

Melon with ham and salad
~~~~~~
Sausage or Breaded fish

Aligot or homemade fries
~~~~~~
Ice cream or stewed fruit
+1 surprise if you behave!!!
Boards to share among 2 to 3 people
Charcuterie board
(ham – fritons – sausage – saucisson)
€15
Aveyron board
(Local ham – fritons – saucisson – Aveyron cheese)
€18
Salad Meals
Rouergue salad with gizzards - smoked duck magret
(extra foie gras €3)
€16
Salad of warm goat cheese toast with local honey, nuts and diced bacon
€14
Caesar salad
(sliced chicken ~ eggs ~ croutons ~ Rodez cheese shavings)
€14
Aveyron salad
(Local ham – nuts – croutons – Roquefort cheese – eggs)
€13
Tuna tartare with sesame seeds and lime
Guacamole – salad
€17
Starters
Homemade half-cooked foie gras, Guérande salt, Sichuan pepper, Fouace
 
€17
Melon with ham and green salad
€12
A selection of starters prepared using local cheeses
(Ecir en Aubrac-stuffed samossas, nuts and Roquefort macaron, toast with warm goat cheese from Saint-Laurent d'Olt)
€14
Smoked salmon and spinach ballotine
Mascarpone cream with herbs and shallots
€14

All our meat products are of French or EU origin
Allergens
In accordance with regulation 1169/2011, please note that the dishes, pastries and cakes in our restaurant may contain allergens. If you have any allergies, please inform a waiter. Our products may contain traces of nuts. Gluten, milk and other allergens may be present.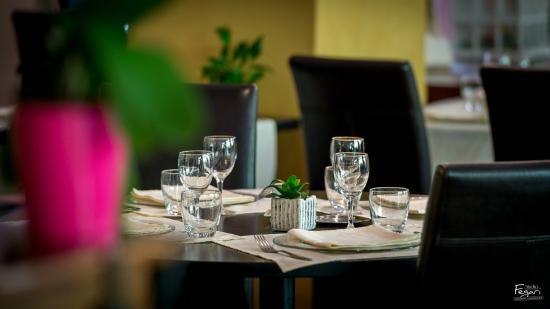 Menu Plaisir (Gourmet Menu) €29
Classic Aubrac beef tartare hand-chopped with a knife

or

A selection of starters prepared using local cheeses
(Ecir en Aubrac-stuffed samossas, nuts and Roquefort macaron, toast with warm goat cheese from Saint-Laurent d'Olt)
or

Smoked salmon and spinach ballotine 
Mascarpone cream with herbs and shallots
~~~~~~
Duckling fillet with almond and cherry sauce

or

Calamari a la plancha with parsley

or

Selection of beef filet with Roquefort cheese sauce
served with seasonal vegetables
~~~~~~
Cheese board
~~~~~~
Choice of dessert
Menu Dégustation (Tasting Menu) €39 
Appetizer
~~~~~~
Homemade half-cooked foie gras, Guérande salt, Sichuan pepper, Fouace

or

Lamb sweetbread with cognac sauce and puff pastry

or

Starter from the Menu Plaisir (Gourmet Menu)
~~~~~~
Allaiton lamb fillet in apricot crust, thyme juice

or

Tuna steak served with an asian style vinaigrette

or

Aubrac beef rib (for 2 people)
~~~~~~
Cheese board
~~~~~~
Choice of dessert
Fish
Calamari a la plancha with parsley
€16
Tuna steak served with an asian style vinaigrette
€18
Whisky-flambeed gambas
€18
Meat and Poultry
Local sausage Aligot 
€13
Classic Aubrac beef tartare hand-chopped with a knife
€18
Duckling fillet with almond and cherry sauce
€16
Selection of beef filet
€17
Allaiton lamb fillet in apricot crust, thyme juice
€19
Beef rib (for 2 people)
€50
Lamb sweetbread with cognac sauce 
€18
Side dishes: assortment of seasonal vegetables or Aligot or Fries
Desserts
Homemade iced nougat with red fruit coulis
€6.50
Lemon shortbread, raspberry core, Ivory lime mousse
€6.50
Homemade rum baba with summer fruit diplomat cream
€6.50
Fraîcheurs d'été with starwberries
€6.50
3-chocolate entremet
€6.00
Crème brûlée
€5.50
Café gourmand  (extra €3 for €22 and €29 menus)
€7.00
Coupe Colonel (lime and vodka sorbet)
€6.50
Café liégeois - Chocolat liégeois
€5.50
Ice cream sundae (2 scoops)
(Vanilla, coffee, chocolate, praline, pistachio, strawberry, raspberry, blackcurrant, mint, chocolate chips, apple, pear, passion fruit, lime, rum grapes, apricot)
€5.50
Cheese board
€6.50